Als je weet dat er begin volgend jaar zo'n zware behandeling staat te wachten is het natuurlijk een hele bijzondere kerst. Dat was ook heel duidelijk te merken aan alle kerstkaarten (en mails 😉 die we hebben gekregen. Zoveel hartelijkheid, steun en liefde is ons toegewenst. Dat moet wel goed komen. Ook vlak voor de kerst nog 2 prachtige boeken (oa biografie van Steve Jobs) en een fles heerlijke champagne gekregen.
Gelukkig voel ik me niet echt ziek. Ben alleen zo ontzettend moe dat ik vrijwel nergens aan toe kom en me al helemaal nergens op kan concentreren. De afgelopen week veel op de bank gelegen. Tot deze week deed ik de hele ochtend niets, nu is het al zover dat ik pas om een uur of 14 in beweging kom. Maar gelukkig geen pijn en ik hoef niet veel.
Donderdag voor kerst is traditioneel de "jaarevaluatie" met het voetbalelftal hier in de plaatselijke kroeg. Ben er om 22:30 naar toe gegaan, maar na een uurtje hield ik het voor gezien, kon gewoon niet meer. Was wel leuk om mijn maatjes weer te spreken, en andersom zijn ook zij blij dat ze me even kunnen spreken.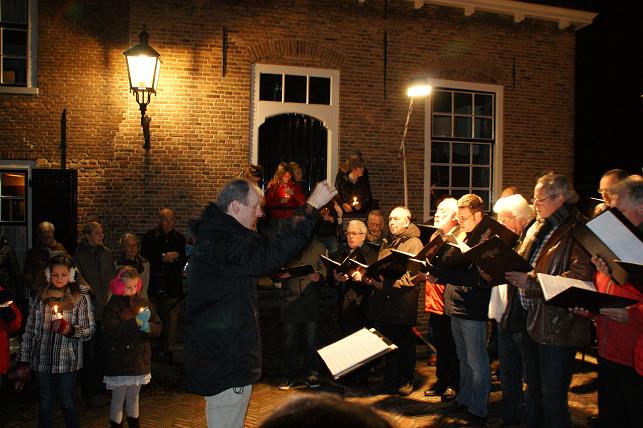 Veel mensen volgen dit blog. Daar maak ik gebruik van door jullie trots te melden dat wij in het leukste dorp van Nederland, Linschoten, wonen. Dit is een dorp zoals Nederland hoort te zijn. We wonen er bijna 30 jaar en kennen veel mensen dankzij de buurt, de school en sportverenigingen.
Traditioneel begint kerst bij ons op kerstavond als het mannenkoor gedurende een minuut of 20 kerstliederen zingt. Klik hier voor beschrijving
De kerstdagen hebben we gezellig met familie doorgebracht. Tweede kerstdag zijn we in de watten gelegd. Zaten met 17 mensen aan een hele lange tafel bij mijn broer en zijn vrouw thuis. Vader, moeder, kinderen, kleinkinderen en onze kleinzoon! Dank aan mijn dochter voor het verzorgen van het heerlijke toetje (chocolademousse en bonbons).
De komende dagen vanaf mijn inmiddels vertrouwde plek op de bank luisteren en kijken naar de top2000.
Erg raar is trouwens het gevoel dat ik iedere dag gebeld kan worden dat er een donor is en dat de behandeling binnenkort gaat starten. Dan gaat het wel gebeuren. Beenmergpunctie, hartfilm, longfoto's en dan de opname. Hoop jullie snel de datum te kunnen laten weten.